Keep your balance when you need it most
"I lose my balance in the midst of conflict." "I get so emotionally overwhelmed that I can't think." "I'm afraid of other people's anger." "I really struggle to keep my cool." "I'm a mediator but avoid conflict in my own life."
Have words like these gone through your mind, too? Some of them sure used to go through mine. And I hear them from clients all the time...we don't call them difficult conversations for nothing!
The best skills in the world won't help if you can't access them when you need them most.
Learning how to resolve conflict or negotiate well is only the tip of the iceberg. I saw this first hand as one of the founding faculty of the United States' first master's degree in mediation. Our students learned from the very best. They got tons of hands-on experience as mediators and negotiators. And some would still stumble when it came to conflict in their own lives.
Why did these smart, well prepared, successful adults stumble in their own conflicts and negotiations even with all the learning under their belts?
Because great negotiation strategy can't deliver for you if the other person's tactics muddle your thoughts or shake your confidence.
Because all those fabulous conflict resolution techniques are useless to you if you can't bring yourself to confront the problem in the first place.
Because if you can't keep your cool in a big argument with the love of your life, it's really hard to access the good things you know you should do...and refrain from the things you know you shouldn't.
What if it could be different?
It can be.
Based on a graduate-level course taught at four universities over 19 years, Calm, Cool & Collected teaches you the basics for staying calm in tense conversations by deeply understanding what throws you and why, how to prevent it, and how to use that information to stay emotionally relaxed and mentally agile under pressure. Learn the basics here, then deepen your skill with practice over time.
Calm, Cool & Collected is a self-study course available 24/7 anywhere you have an Internet connection.
Set your own pace, learn where you are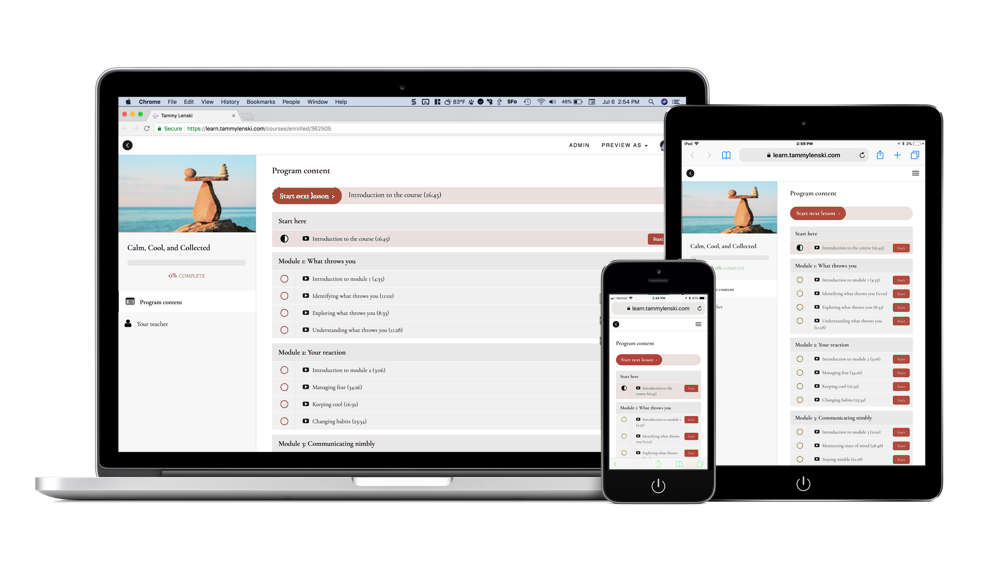 Your teacher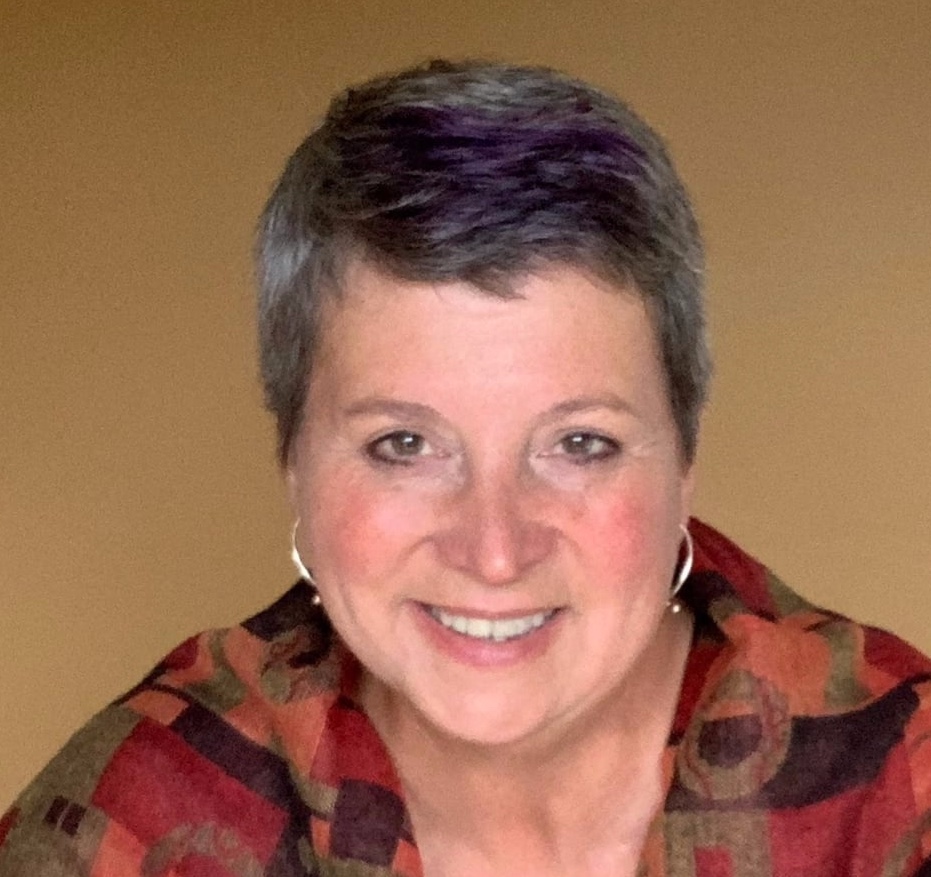 For over two decades Dr. Tammy Lenski has been helping people talk about and work out the friction and disagreements that get in the way of career, teamwork, life, and love. An award-winning mediator and executive coach, Tammy has taught conflict resolution at four U.S. universities and was co-founder of the world's first master's degree in mediation. The author of two conflict resolution books, Tammy has been recognized by both the Association for Conflict Resolution and the New England Association for Conflict Resolution as a pioneer in the conflict resolution field. Find out more about Tammy here.
Program content
Start here
Available in days
days after you enroll
Module 1: What throws you
Available in days
days after you enroll
Module 2: Your reaction
Available in days
days after you enroll
Frequently asked questions
When does the course start and finish?
The course starts now and never ends! It is a completely self-paced online course - you decide when you start and when you finish.
How long do I have access to the course?
How does lifetime access sound? After enrolling, you have unlimited access for as long as you like, via your smartphone, tablet, or computer. If I ever decide to take down the course, you'll first be given download access to all material to store on your own device for as long as you like.
What if I am unhappy with the course?
We would never want you to be unhappy! If you are unsatisfied with your purchase, contact us in the first 30 days and we will give you a full refund.
I'm a mediator. Is this of any use to me?
So am I. I've used the material in this program myself and I've put it to work in two vital ways: (1) You know that sitting in the mediator's chair can sometimes be the hot seat. Clients occasionally take their anger out on you. In court cases, clients' attorneys may try to push your buttons or take control of your mediation. The pressure's on to reach an agreement and time is running out. In moments like those, you need to maintain your equilibrium, collect your thoughts, articulate yourself well, and not let your own agitation get in the way of serving your clients with excellence. (2) You also know that one of our toughest jobs can be to help clients maintain their own calm and cool in the face of difficult negotiations. I regularly use the practical tools this course provides to help my clients get their feet back under them reliably.
How much interaction will I have with you, Tammy?
The course is a self-study course for you to do on your own, at your own pace, whenever you wish to work on it. I won't be online with you as you take the course, though you are welcome to email me with occasional questions.
More questions?
Feel free to contact me (see Contact link, below) with your questions.